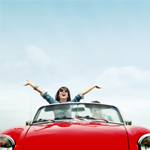 We've tucked away our winter coats and replaced them with flip flops and swimsuits, but have we made sure our cars are ready for Summer? Just as we prepare for winter weather with snow tires and ice scrapers, we should show special attention to our cars for warm weather. Keep your car in good shape this season with this set of helpful tips from the Car Care Council.

Check all fluids- everything from engine oil to windshield washer fluid. Rainstorms can be heavy this time of year so check your windshield wipers and lights to be sure you can see well and that others can see you. 
Check your HVAC system (heat, ventilation, and air conditioning).
You'll be glad you did! On a sweltering summer's day, you'll stay cool while avoiding window condensation that can impair vision.
Check your brakes-
many of our woodland friends are on the move back north, and you'll want to avoid any run-ins with them on the road.
Check your battery!
Nothing can kill a road trip like waiting for the next passerby to lend you a hand.
Bring your car to Forty Fort Lube
to see that your engine has enough coolant. An overheated engine can turn out to be an expensive oversight.
The swing in weather conditions can wreak havoc on your tires. Be sure check tire pressure and tread before any trips to your vacation destination.
To have your car fully inspected and prepared for the upcoming season, stop in to Forty Fort Lube. The well equipped staff can check tires, brakes, steering, suspension, lights, belts and hoses, fluids, and much more to keep your car running safely and smoothly this season!