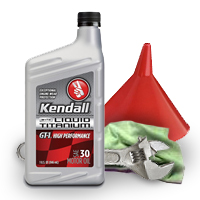 As a responsible vehicle owner and a safe driver, you should always keep your vehicle's service schedule in the back of your mind. Here's a list of the services you should have applied to your car and the recommended intervals:

Once a month: lights, tire condition, and windshield washer fluid.

Every three months or every 3,000 miles: automatic transmission fluid, battery, cables, belts, engine oil, filters, and power steering fluid. 

Every six months or every 6,000 miles: chassis lubrication and wiper blades.

Once a year or every 12,000 miles: brakes, cabin air filter, antifreeze, spark plugs, steering, and suspension checked.

For a more detailed list or to have a custom list created specifically for you and your car, visit the Be Car Care Aware page.