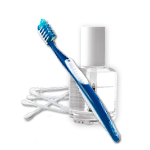 You might have more items around the house for a "quick auto fix" than you realize.
Here are a few:
1. Use clear nail polish to fix a small crack in your windshield or keep a scratch or dent from rusting.
2. Use toothpaste to clean foggy headlights.
3. Line a plastic cereal container with a grocery bag for an easy garbage can. 
4. Use Q-tips to easily access those narrow vent spaces in your heater. It's good to clean these areas to help prevent any allergies and asthma attacks caused by dust.
5. Use diluted baby shampoo to easily clean bird droppings from your car.