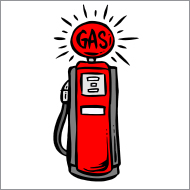 For the average American, gas expenses take a significant chunk out of the monthly budget. Knowing a few simple tricks about can help make your gas, and your funds, last longer.
Believe it or not, the difference of gas prices from station to station can be pretty drastic. Thankfully you don't have to drive all over town searching for the best price- there are resources that do that for you, like a smartphone app called "Gas Buddy".
Use that rewards card! Many gas stations have reward programs. Sometimes these rewards require you to have a credit card through the gas company, but other times it could be as simple as using a rewards card at your grocery store that transfers over to give you cents off each gallon.
While it doesn't seem like it makes a big difference, clutter in the back of your vehicle is adding weight to your vehicle, forcing your engine to burn more fuel. This can add up over time. Try to only keep the essentials in your car.
Inflate your tires- according to the U.S Department of Energy, low tires can decrease fuel efficiency by up to 3.3%.
One of the biggest ways you can optimize your gas efficiency is to drive the speed limit. After you exceed 60mph, your fuel efficiency drops significantly. While it may not get you where you're going as quickly, it'll save you money and gas in the long run.
Last but not least, maintain your engine. Have your emissions checked regularly. Engine problems, great or small, will negatively impact your fuel efficiency.