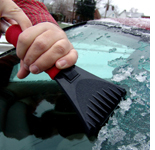 The sun hasn't even come up yet, and you're oh, so comfortable under the nice warm blankets. Getting out of bed is particularly difficult this morning. You rush out the door only to find several inches of snow on the ground. You're already late, and now you've got to dig yourself out! The roads are slick and your decision to skip on the winter tires this year isn't looking so smart right about now.

We all know this scenario. Harsh weather conditions are on the way; now is the time to get prepared. A little pre-planning could make all the difference when driving in the snow or ice. 


Check your fluids!
Change or at least top off your oil, brake, and transmission fluid. It's especially important that you take care of your coolant system. Use a mixture of 50 percent water and 50 percent coolant. Antifreeze can cause oxidation at very low temperatures, plus it will move smoother when diluted.

When was the last time you replaced these items?
Visibility becomes even more important in harsh winter conditions. It's important that you have working bulbs for headlights, windshield wipers, and washer fluid.

Tire Time
Winter can wreak havoc on your tires. At the very least, check your tire tread and air pressure. Forty Fort Lube strongly suggests getting snow tires if you live in an area that experiences lots of snow or ice. Snow tires boast treads that are deep enough to grip unplowed snow or ice. They are made with special blends of rubber specifically designed for low temperatures. Regular all-year tires have rubber elements that become more brittle in the cold.

Wise Investments
If you aren't a fan of salt stains and brown slush on your interior carpet (most of us aren't), invest in rubber car mats. These will protect your carpets, plus they can come in handy if you're stuck on snow or ice. Place the mats under your tires to get some traction. Some other household items can offer traction if you get stuck. Keep a small bag of kitty litter in the trunk. A hubcap can double as a shovel if you need to dig yourself out of snow.

It's also a good idea to keep an emergency kit in the car. In case you need to pull over during a storm or you're waiting for aid to get unstuck, you might want to keep these things on hand:
•snacks (non perishables like energy bars, bottled water, etc)
Drive Smart
If you must be out on the roads in wintery conditions, be smart. Driving in snow and ice is all about balance- don't drive too fast and risk losing control of the car, but don't drive too slow and lose momentum. Take it easy on the brakes. Give yourself plenty of time to stop before turns, stop signs, and red lights. Leave lots of extra room between you and other cars in case you slide. There's lots of tips about steering sharply left or right depending on which tires are spinning. The safest bet is to gently turn your steering wheel back and forth between left and right until you gain control of the car.