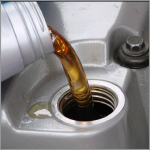 Changing your oil as often as your car's manufacturer suggests is very important in the overall well-being of your car. It can save you a lot of strife and money in the future. Extensive testing was performed on your vehicle model to figure out specifics like the number of miles it could take before needing an oil change- so take advantage of that and don't push your luck! 
What exactly is the purpose of oil? Believe it or not, many of the working pieces of your engine never even touch, but instead ride on a thin film of oil to prevent friction and overheating. Oil also picks up and holds onto dirt, contamination and other combustion by-products. That's another reason why an oil change is necessary after a certain amount of miles: it gets very dirty over the course of many miles.
Bring your car into Forty Fort Lube for your regular oil change and have your tires rotated for free!