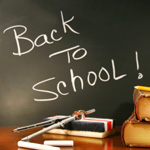 When college and high school classes are back in session car care is often times the last thing on students or their families mind. But as driving to classes, school events, or to see friends starts to increase it only makes sense to run through a quick checklist. Continued maintenance will help reduce big ticket repairs, increase safety, and provide maximum gas efficiency. Below is our Back to School Check List which covers some basic areas to check.
Fluids
Checking and maintaining fluids is easy, but often times the most common area of new driver neglect.
Filters
Engine filters trap dirt and debris to keep your engine clean. A cruddy filter will also reduce your vehicles miles per gallon(MPG). Not sure how often filters should be replace? Give us a call or stop in, and our seasoned staff would be more then happy to help.
Tire Pressure
A tire pressure gauge is cheap and easy to use. Keeping tires properly inflated adds life to your tires, increases gas mileage, and most importantly it's safe.
Windshield Wipers
Summer heat can do a number on windshield wipers. Give your eyes a break. Replace bad windshield wipers early instead of the day after a bad storm.
Belts and Hoses
Consider having a mechanic check your car's belts for cracks and missing pieces, examine the hoses for bulges, cracks, soft spots or brittleness and regular brake inspections.
There is never an ideal time for a car to break down, so keep up on your vehicle's maintenance. Not taking care of your vehicle can cost more then just time and extra money; it can also lead to an accident. Establishing an at home check up routine as well as taking it to a garage frequently is the easiest way to get the most out of your vehicle.