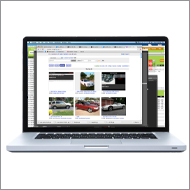 With the dawn of the Information Age came the car salesman's doom- a knowledgeable car shopper. Informational sites like Wikipedia and opinion blogs and forums made customer-based reviews available to the public. Customers gained access to the going rate for cars from sites like Edmund and Kelly Blue Book, when previously, the price of a car was based upon a customer's knowledge. Car manufacturers quickly jumped on the bandwagon, creating dynamic websites where customers could find specific prices and details about their cars.
The way people bought cars was changing- the first step of the process was searching the internet to find a car that best suited a budget and lifestyle. Experts were no longer trying to "sell" customers on a particular car- they often came in with the decision already made.
In this digital era when, as consumers, you do most of your shopping with the click of a button, they're skipping the middleman when it comes to car buying. You can buy a new or certified pre-owned car from a manufacturer's website. Tools allow you to apply for financing, build a customized vehicle, estimate monthly payments, some sites even have a live-chat option, so you can chat with a representative to process your purchase. These conveniences make it easy for you to research, select, and purchase your car in a few short steps, but you will pay for it. You're dealing directly with the manufacturer- you can trust that your online purchase it legitimate, but you won't be getting any special price cuts.
However, when even the least expensive car on a manufacturer website is out of your budget, you start to delve into the world of personal car sales. Craigslist and eBay make it easy to connect with people selling a car on their own. This process can get sticky-there are people looking to scam consumers and steal credit card information. When dealing with a direct seller, you won't be able to get financing. You may be able to work out a monthly payment plan, but be sure to file legal documentation to ensure the safety of the buyer and seller.
If you are going to use the internet to buy a car, be wary of deals that are too good to be true. If possible, look for cars for sale in your area so you can test drive the car. If the car you're interested in isn't nearby, be sure to check out its history using sites like CarFax.
If you're headed to the auto section on Craigslist, you'll see a disclaimer with some tips to avoid scamming. Sellers requesting the use of a money wire, Western Union, cashier's checks, or money orders are typically scammers. Craigslist suggests only dealing with sellers willing to meet in public places and offer test drives- do not deal with a seller trying to ship the car to you. They also warn that fraudulent car sales may include stories to gain sympathy, like the death of a family member or a deported serviceman.
Remember to use caution and wisdom when purchasing cars, or any big ticket items online.